Blip
This page describes a tool I wrote many years ago (in the case of Blip, it was created in 2007). You will probably need to fiddle around to make it work on a recent machine (hunt down old MFC libraries etc…) and I don't give any guarantee of any sort about its state or usefulness. To make it short: you are on your own!
What is Blip?
The concept behind Blip is to create innovative sounds and loops by drawing with the usual graphic tools (pencil, airbrush, line…). The classic painting functions take a whole other dimension, as they create melodies and rhythms in the musical domain.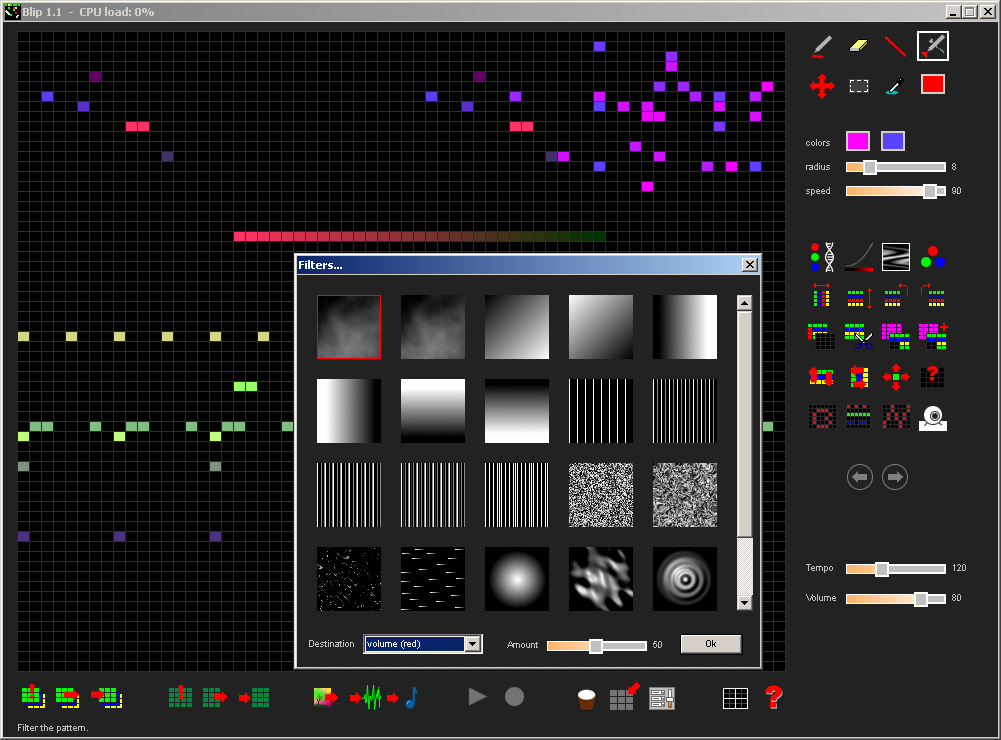 How does it work?
Blip continuously scans a grid of 64×64 cells. Each cell corresponds to a note, whose starting time is determined by its column, and whose instrument is determined by its row. The color of the cell controls the volume of the note (red component), its pan (green component), and its pitch (blue component).
Painting in the grid can be done in real-time while the loop is playing, which coupled with MIDI support and numerous shortcuts, transforms Blip into a very powerful live instrument. There are 16 patterns, each of them having its own tempo.
Blip can be used in many different ways. Here are a few of them:
with a lot of short percussive sounds to create glitchy patterns
with a slow tempo and long samples with fading envelopes to create complex ambiences
with simple tones and only a few painted cells to create wave sequences
with sine waves for additive / granular synthesis etc…
Audio & Video examples
Here is a very simple video example of Blip in action.
And a few crazy loops, mostly done with random kits and functions. It is easy to generate such loops in a few clicks with Blip.
Download & Installation
Click here to download Blip. You just need to unzip the file and the program is ready. Make sure to read the PDF documentation, as it contains a lot of details, especially all the shortcuts to use Blip as a performance tool.
If you get a message "This application failed to start…", you are are missing some dlls. Please install this and you will have everything you need to run Blip, and other Windows programs using the same dlls (it's small).