Feature-Packed Audio Dialog Tool 25% Off
Until the end of April, Alto Studio 3.2 – which now includes VoiceFX - is at US$290 only (instead of US$390)! Here are some of the features you can get for less than the price of some metering plug-ins… Don't miss this unique opportunity to get the ultimate game audio dialog tool!
Import dialog files from a Wwise, FMOD, ADX2 or Fabric project.
Import dialog files referenced by an Excel sheet or directly from a folder with a prefix / suffix / or sub-folder per language.
Import scripts and character names from a Final Draft project or from Excel sheets.
Check for missing or extra files.
Analyze the audio characteristics of the files (format, sample rate, bit depth, number of channels, duration, loudness, leading and trailing silence, average pitch).
Verify that the audio files match user-defined characteristics.
Compare the audio characteristics of the reference files with localized files in one or several languages.
Correct the errors (perfectly or within valid error range)
Generate beeps or silent files for missing files.
Generate full reports in Excel, PDF, HTML, or XML format for your clients or teammates.
Export dialog audio files and automatically create events and containers in your Wwise / ADX2 / FMOD project.
Combine the 19 racks (vocoder, convolver, equalizer, ring modulator etc.) of the VoiceFX tool to create monster, robot, alien voices and more!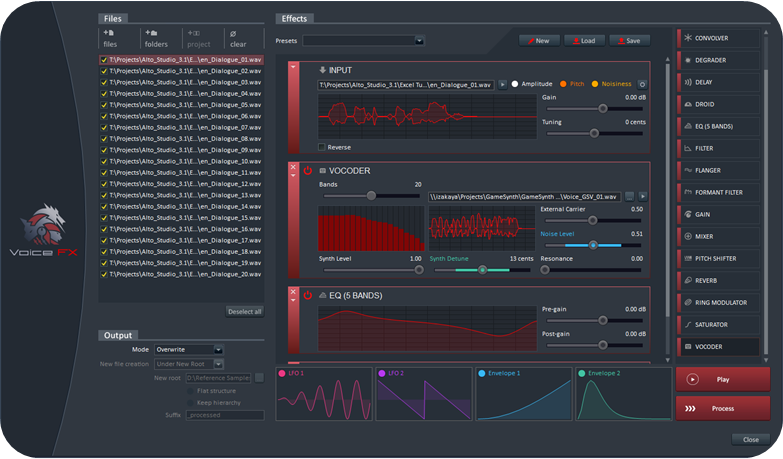 Use the loudness equalizer tool to match the loudness (LUFS) of a reference file or a user-defined value.
Use the placeholder speech synthesizer to automatically create temporary files in various languages with a different voice for each character.
Use the best audio file renamer on the market (can even rename files based on their audio characteristics).
Use the interactive dialogue tester to ensure that voice lines concatenate seamlessly.
Generate lip-sync animation files in conjunction with FaceFX.
Batch-process audio files by interfacing with Tsugi's AudioBot.
Generate run-time IDs for each dialog line.
Use the plug-in system to extend functionality or interface with your proprietary technology.
Call the command line version from your build pipeline to automate audio validation tasks.
Yes, that's right, you can do all that – and a lot more – for only $290, so make sure you seize this opportunity today as this is a time limited offer!